Learn the tools and acquire the knowledge you need to improve communication and build collaborative relationships which emphasize trust and respect. Utilizing simple, concise and direct language as taught by AOC you will communicate more efficiently and productively. Additionally, common misunderstandings will be avoided through development of professional listening skills, and an understanding of the roadblocks which can undermine communication.
Seminar content covers
Ways that communication is closely tied to values, beliefs, experience
The big communication pitfalls such as the making of assumptions, or snap judgments
The process in which we all filter information
A reality check: self-perception, and how others perceive us
The difference between one-way and two-way communication
Your own communication style, and its role in your interaction with others
What listening really means
The power of body language and congruency
How to deal with emotions and use the power of mental training.
• Business professionals who wish to improve on-the-job communication with colleagues, superiors, customers, clients, employees
• Business professionals preparing for interviews, conferences, negotiations
• Private individuals who wish to understand and improve their interaction with others
Sessions generally run from 7 to 14 days. This depends on the planned topics to be covered, and previous knowledge of the participants.
1.- Getting Started
Establish 'SMART' objectives for your communication

Specific
Measurable
Assignable
Realistic
Time-related

Be prepared; know your communication partner
Be further prepared; solicit information on the pertinent topic
Consider how you will establish rapport; what to say, and the best way to say it
Know how and when to use verbal and nonverbal cues to build rapport
Understand how to connect with your listener when face-to-face communication is not an option
2.- Maintain the flow of communication
• Strengthen relationships and avoid communication breakdowns
• Recognizing your role in the communication and take personal responsibility
• Communicate in a non-defensive manner
• Determine when it is appropriate to speak up, and in what cases reserve is    preferable
• Identifying the appropriate degree of disclosure
• Establish value and trust
3.- Three Communication Styles
• Learn the 3 Styles of Communicating
• Recognize your own, and that of others
• Learn how to transport your message across all styles
• Understand the strengths and weaknesses within each
• Build bridges to close the gaps between communication styles
4.- Listening; it is more than hearing!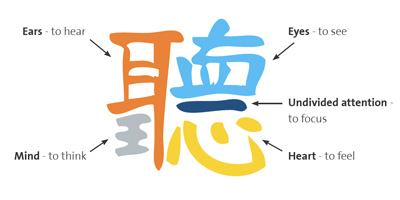 Using your ears, eyes, heart to improve communication
• Confirm the message by paraphrasing what you hear and understand
• Define and clarify meanings to avoid making assumptions
• Show the speaker respect, empathy and sensitivity
• Get the entire message; learn to suspend judgment and avoid drawing conclusions while listening
• Understand how each of us filters the messages we hear
5.- Words, words, words
understand how words have different meanings for others
reach beyond the words people say
reframe or shift perspectives through language
clean up your own language, turning the negative into the positive
use new tools for reflecting on and clarifying speech
employ questioning techniques, open, closed, rhetorical, and more
recognize how words can limit you
establish rapport with use of 'mirror language'
give more meaning to your message with multi-sensory language
know when to use 'softeners' in your speech
6.- Understanding Nonverbal Cues
How your body language affects you as both sender and receiver
Nonverbal Cues include gestures, intonation, rate of speech, volume, facial expressions, posture, use of space, eye contact, and dress. By coordinating body language to your spoken message – thereby maintaining congruence – you achieve clarity in your communication.
Participants Learn
• To become more convincing, developing believable and credible messages through congruency
• How attitude is reflected in body language
• Use of silence – the pause – as a powerful communicating tool
7.- Emotions
Dealing Constructively with Emotions by learning
• Development of individual emotional intelligence
• Methods for working with one's own personal challenges
• To tap into resources which lead to a calm state
• New perspectives for considering challenging emotions
• Skills to harness emotions and channel energy into positive directions
• How to defuse an emotional situation
• Master the art of taking responsibility for your own emotions